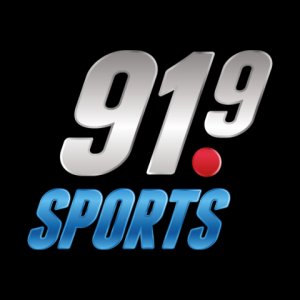 91.9 Sports owned by RNC Media is a Montreal based sports format radio launched in Dec 2004. Radio Nord Communications Inc. alongside La Société Spectra-Scène Inc. were awarded a license for an FM radio that would broadcast on a frequency of 91.9 MHz using an ERP of 900 w. The format chosen at that time was Jazz and Blues for listeners between ages of 35 and 64. In July 2004 the power was increased to 1,900 w. The testing of the signals was started in Sep 2004 before the formal signing air of the CKLX-FM in the Fall. Under a corporate reorganization Radio Nord Communications INC. (RNC) became the owner of CKLX-FM. New branding in 2008 was Planete Jazz. In 2012 it came out from the management of the CKLX-FM that it is revisiting its format with changing Jazz Talk to 50% Jazz and 50% talk. Planete Jazz was not contented here as they again applied for a switch to Specialty Spoken Word but the application was rejected by CRTC. However, in 2014 the format was approved for change to Spoken Word and Sports Talk from Specialty Music.
Get More Quebec and Canadian FM, AM and Online Stations
Listen 91.9 Sports 91.9 FM Montreal, QC Online
Écoutez en direct! Listen 91.9 Sports online from Montreal, Québec. Wait for the stream to load.
More About 91.9 Sports
Radio X was renamed as Radio 9. Radio 9 in June 2015 announced that it would be making a move to an all-sports format from mix Sports and Music (format). After the flip the branding was changed to 91.9 Sport on Aug 31, 2015. Sports Talk, highlights, interviews, pre and post-game analysis and more is brought for the audiences. It was announced that a newline up of live programming would be added in weekday slots which include Sports Extra and Le 5 @ 7 alongside others. According to Sep 2016 figures of Numeris, the Sports Talk format has given the biggest boost in last five years ratings with an audience share of 2.4%. Francophone audiences in Quebec and across Canada can have the 91.9 Sports online with Emissions and Animateurs Info, Concours, 91.9 Sports Boutique and more. Follow CKLX-FM on Facebook, Twitter and Instagram. Here is the website: http://919sport.ca/
CKLX 91.9 FM Programmation
| Les faits saillants | Du sport et rien d'autre | FC919 | 91.9 Sport Gatineau |
| --- | --- | --- | --- |
| Du sport, le midi | Du sport, le matin | Sport Extra | Gilbert Delorme |
CKLX 91.9 FM Animateurs
| Georges Laraque | Jean-Charles Lajoie | Stéphane Gonzalez | Meeker Guerrier |
| --- | --- | --- | --- |
| Enrico Ciccone | Charles-André Marchand | Michel Langevin | Gilbert Delorme Olivier Brett |
Contact
Address: 200, avenue Laurier Ouest, bureau 250 Montréal (Québec) H2T 2N8
Tel: 514 871 0919