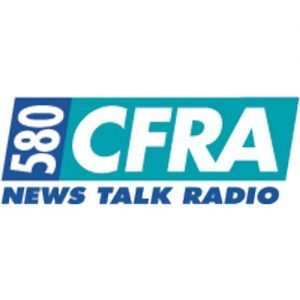 580 CFRA is a news and current affairs talk radio established in May 1947 and owned by Bell Media. Frank Ryan was allowed to set up an AM and FM radio license. AM station would broadcast on a frequency of 560 kHz using an ERP of 1,000 w. Expected to hit the waves on May 1, 1946, the station was launched on May 3, 1947. Wattage was increased to 5,000 w day at nighttime in 1953. Studio and offices were relocated to 150 Isabella Street on Dec 5, 1957.By 1957 the full time power used by the CFRA-AM transmitter was 5,000 w. In 1962 a slight change was made in the dial which became 580 kHz and ERP for day and nighttime was increased to 50,000 w and 10,000 w respectively. Allan Waters of CHUM Ltd acquired CFRA and CFMO in 1968.
Listen 580 CFRA AM Ottawa, ON Online
Welcome to Ottawa's Home for Breaking News! Listen 580 CFRA online from Ottawa, Ontario. Wait as the stream loads.

Explore More Ontarian and Canadian FM, AM and Online Radios
More About 580 CFRA
The music format was changed from AC to lite rock in 1986 and then moved to fulltime Oldies in 1991. Meanwhile in 1992, the sibling CFMO's calls were changed to CKKI-FM. 580 CFRA already and being the first one to broadcast in real time in 1995 was streaming as an online radio in 1996. After purchasing the Rawlco's Ottawa division, the sports programming was transferred to CFGO, making the channel ad full time New and talk radio. CHUM Ltd. amalgamated with Bell Globemedia in 2006 to form CTV globemedia. In Aug 2013 the nighttime ERP was incremented to 30,000 w. The premier news and talk radio in Ottawa market celebrated its 70th birthday on May 3, 2017. Audiences can listen the CTV radio online with national and international news, weather updates, Ottawa's news, current affairs and business talk, contests, (Win big with News Talk 580 CFRA, OLG Daily Grand Lotto, $1,000 Minute, OLG Lotto 6/49 Giveaways) events info and more. Follow the CFRA 580 AM on Facebook, Twitter, and Instagram. Here is the website: www.iheartradio/580-cfra
580 CFRA Shows
| The Morning Rush with Bill Carroll | Viewpoints | Sunday Housecall | Sunday Night Live with Rabbi Bulka |
| --- | --- | --- | --- |
| The Tim Hudak Show | The Weekly Review | CTV News | CTV's Question Period |
| TED Radio Hour | CTV News | The Morning Rush Rewind | The Newsfeed with Kristy Cameron |
| CTV News with Patricia Boal | CTV News Replay | News & Views with Rob Snow | Money Talk with John Budden |
| TED Radio Hour | Christian Science Sentinel | The Employment Hour | Open House – The Real Estate & Mortgage Show |
| Computer Radio Show | Infomercial Programs | CTV News with Katie Griffin | Inside City Hall with Evan Solomon |
| CTV National News | Insurance and Injury Law Show | Beyond the News with Brian Lilley | The Weekly Review |
| Coast to Coast AM | Experts on Call | Ottawa Now with Evan Solomon | Renovations on CFRA |
| Old Time Radio Shows | The Daily Review | CTV National News | Travel Talk |
Contact
Address: 87 George Street Ottawa ON K1N 9H7
Tel: 1-800-580-CFRA (2372)
613-521-1000
613-789-2486 4252
Email: webmaster@cfra.com