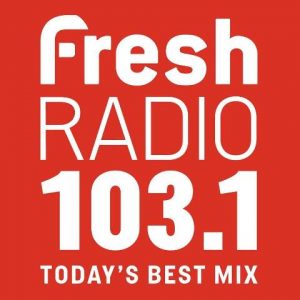 103.1 Fresh Radio launched on May 14, 1948 is a St. Thomas based Adult Contemporary station owned by Corus Entertainment. Originally established as CHLO-AM broadcasting on a frequency of 680 kHz with 1,000-watt transmitter by Major John Peterson it moved to FM band in 1994 and was renamed as CFHK-FM and new branding was "The Hawk". Jack (John Peterson) who was the president of then CHLO was elected the Mayor of the city in 1949 but had to resign at the end of the year as he was posted to Korea for his duties in Special Canadian Force for Korea. Clarence Nichols was the man in charge after him in 1950. The Trans-Canada affiliate was greatly owned by E.M. Warwick with 98.98% stake in CHLO. In 1955 it became a 24 hour station. Souwesto Broadcasters Ltd. on Nov 1, 1959 purchased the station. CHFI, a Ted Rogers after an agreement with CHLO started to use 680 KHz to broadcast its Toronto radio all the way to America in 1965.
Complete list of Ontarian and Canadian Radios
Listen 103.5 Fresh Radio St. Thomas, ON Online
Listen 103.5 Fresh Radio online from St. Thomas, Ontario. Wait as the stream loads.

The Top 40 music channel moved to 1570 KHz increasing ERP to 10,000 watts after the approval of CRTC in Feb 1970. Soon the CHLO was faced with some tough competition from London based CJOE, a rock radio. The channel was sold out to CHLO Radio Ltd. on Sep 25, 1981. After facing a denial of CRTC in 1993 the station flipped its frequency to 103.1 MHz which was vacated by CIQM London and was now on FM band. There was also a changed in the avg. and max ERP which were now 16,700 and 50,000 watts. With the changes coming into effect the station became a Contemporary hit radio.
More About 103.5 Fresh Radio
CFHK, the rebirth of CHLO, picked Classic Rock format in July 1994 and was reformatted as Modern Rock station in March 1996. In Dec 1997 CFHK "The Hawk" was again broadcasting Classic Rock. The Hawk signed LMA (Local Marketing Agreement) with Blackburn Radio in Jan 1998 to share the space with CFPL in London Free Press Building. In Aug 1999 CRTC brokered a deal that finalized the purchase of CFHK and CFPL stations to Shaw Communications Inc. Corus a subsidiary of the Shaw was the controlling the assets acquired from Blackburn after its formation in Sep 1999. In 2005 CFHK which swapped format with sibling CKDK flipped to Hot AC format and was remerged as Fresh FM. Authorized contours were altered post the approval of CRTC on Dec 11, 2013 increasing average and max wattage to 22,000 watts and 60,000 w respectively. Fresh FM became Fresh Radio in Feb 2015. Corus station can be listened online with DJ's and Shows info, concerts and community events, contests (Tour the Wine & Food Show, London Bridal Expo), on demand stuff, playlists and more. Find Fresh Radio 103.1 on Facebook, Twitter, Instagram and YouTube. Here is the website: www.1031freshradio.ca
103.5 Fresh Radio Programs & Personalities
| Continuous Fresh Music | Tania | Fresh Top 20 Countdown | Liz Gogol |
| --- | --- | --- | --- |
| Kim Woodbridge | Fresh Mornings | Toni Ross | Lana Pavlovic |
Contact
Address: 380 Wellington St, #222
London, Ontario, Canada
N6A 5B5
Tel: 519 931 6000
519 643 1031
Fax: 519 438 2415