Capital FM London Listen Live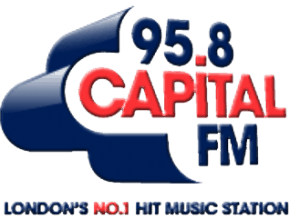 Capital FM London or Capital London is a popular radio stations broadcasting from London, UK ranking #5 of all UK radio stations and owned by Global Radio. It was established in 1973 (mid of October). Moreover it plays music and shows daytime.
Capital London Radio Frequencies
It has the following frequencies:
95.8 Capital FM Greater London
96-106 Capital FM East Midlands
97.4/103.2 Capital FM Cardiff and Newport
102 Capital FM Greater Manchester
102.2 Capital FM Birmingham
103.2 Capital FM South Hampshire
105 Capital FM Yorkshire
105-106 Capital FM North East England
105-106 Capital FM Central Scotland
Gold UK
Gold Birmingham
Gold South Wales
It plays music (western), news, speeches, showbiz and events (easter, christmas, new year) transmissions. Also Capital FM has many fans on Facebook, Twitter. Different new programmes and shows are being introducing day by day by Capital London FM. Capital London is also called as "London's Number 1 Hit Music Station". Capital London have four types of presenters:
Local presenters
Networked presenters
Specialist presenters
Former Presenters
It is a legend radio station among the covering area (London, UK and near-touching cities).
Capital London Radio 95.8 FM On Air Streaming
Below is the live streaming of Capital London Radio, please wait a while the stream loads completely
Now you can also listen "Capital FM London" outside UK, USA & Canada.