Amber Sound 107.2 FM Listen Live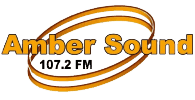 Amber Sound FM is a community genre radio station owned under the management of Amber Valley Broadcasting and broadcasting from Amber Valley (Ripley), Derbyshire, East Midlands, England. It was awarded a five year community license from OFCOM in 2008 after some Restricted Service License transmits. It plays Pop Music, News transmission, Sports and all the other social activities in Derbyshire. It was first on aired on October 4, 2008. It broadcasts 24 hours live transmissions in the whole area.
Management:
The Amer Sound FM is managed by the following directors:
Sean Carter
Chris Knight
Glyn Williams
All Presenters of Amber Sound FM:
Adrian Gill
Barry Jamm
Chris Knight
Chris Thompson
Craig Strong
Danny Nightingale
Esme Fallows
Garry Traffic
Glyn Williams
James Ahmed
James Summers
Lee Raynor
Les Wright (Lofty)
Matt Fury
Phil Marshall
Richard Greaves
Sean Carter
Trevor Middleton
Alan Parkes (died)
Amber Sound FM 107.2 Radio Streaming Online – Listen Live
Below is the live streaming of Amber Sound FM 107.2, please wait a while the stream loads.