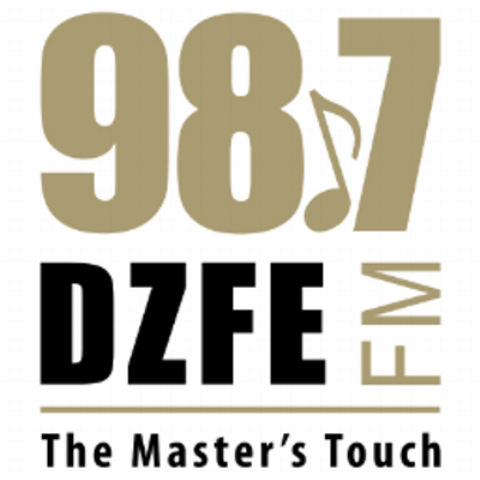 98.7 DZFE is a Classic music station founded on June 1, 1954 based in Pasig City and broadcasts in Mega Manila area. 702 DZAS is the sibling of the channel with the slogan: The Master's Touch. American Missionaries were the force that established DZAS and then DZFE in 1948. Far East Broadcasting Company initially vowed to bring the faith and teachings to China, however, changed its plans by answering the a bid conducted by the government for the establishment of a classical music radio. The Radio went on air on June 1, 1954 on a frequency of 1030 kHz. It went off air in 1972 after the restrictions imposed by government on AM frequency but retuned after some time adopting FM band. The studios were relocated to Cityland 10 Tower 1 in Makati to make its association with the listeners even better. Post 9/11 time was rather difficult for the 98.7 Classical FM as it had to drop 40% of its broadcasts because of financial and other issues but DZFE showed composure as it already had taken the similar tolls in 1976 and 1986.
Full List of FM, AM and Online News and Music Radios from Philippines
Listen 98.7 DZFE FM Pasig City, Philippines Online
Listen 98.7 DZFE-FM – The Master's Touch, live from Mega Manila. Stream may take a moment to load.


ERP was decreased to 5 kW and transmitter site was relocated to Crestview Subd., Antipolo City, Rizal in 2005. The renaissance period of the DZFE 98.7 FM starts from 2006 with the increase in broadcast time up to 10 hours. Broadcasts were increased to 18 hours in June 2008 followed by the restoration of Sunday's broadcasts. Nautel NV20's (transmitter) installation was the first of its kind in Philippines. Studios were again relocated to One Corporate Centre in Ortigas Center, Pasig. The Effective radiated power was enhanced to 20 kW in in the same year. Another increased was made in the broadcast time by three hours in Oct 2013. You can listen music and talk online with Classical Live and Updates and may also support it if you could. Follow the Classical 98.7 FM on Facebook and Twitter. Here is the website: www.dzfe.febc.ph/
Contact
Address: 46th Floor
One Corporate Center
Doña Julia Vargas
cor. Meralco Avenue
Pasig City 1605, NCR
Philippines
Tel: +632 654 3322 (local: 301)
Email: mailbox @ dzfe.febc.ph