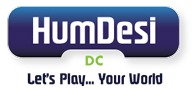 HumDesi Radio Stations are part of World Band Media International having different frequencies in almost all states where south asian community is in majority. all stations have  high definition sound quality ( HD ).
HumDesi DC 103.5 FM is popular amongst Urdu-Hindi speaking South Asians of Washington D.C . whether you are in home or outside in office or car , Hum Desi in HD Sound format will make your day musical and enjoyable.
the radio station can also be tune on a HD Radio set in broadcasting area on frequency of 103.5 FM
wait while the live streaming loads and it starts playing…..