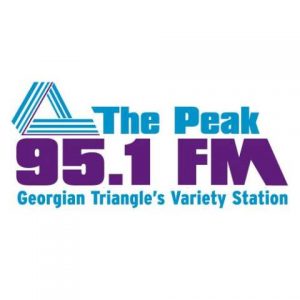 The Peak 95.1 FM or CKCB-FM is a Corus owned Adult Contemporary radio operating in Collingwood. Barrie Broadcasting Co. Ltd. owner Ralph T. Snelgrove was allowed to operate an AM station broadcasting on a frequency of 1400 kHz using an ERP of 250 w. Your Community, Your Music, Your Station is the catchphrase of the station. The channel was officially launched on July 15, 1965 form its studios at 84 Hurontario Street. It was initially run as a semi-relay-transmitter to CKBB-AM with the airing of some local content. Local programming share got increased to 42 hours by March 1969. Wattage was increased to 1,000 w in July 1975. Ownership was changed to Kawartha Broadcasting Co. Ltd. in Dec 1983.
Complete List of Ontarian and Canadian Radios
Listen The Peak 95.1 FM Collingwood, ON Online
Listen The Peak 95.1 FM live from Collingwood, Ontario. Wait as the player loads the stream.

More About The Peak 95.1 FM
Nighttime wattage was incremented to 1,000 w in Dec 1984. Power Corporation of Canada after getting the effective control of the assets in 1987 was allowed by the commission to switch to FM band in Aug 1994; 95.1 MHz would be the new frequency and 520 w would be the power of transmitter. ERP was decreased to 350 w in Jan 1996. Power Broadcasting Inc. (formerly Power Corp.) was acquired by Corus Entertainment Inc. in April 2000. The bid to increase the level of wattage to 4,000 w was deferred by CRTC in July 2007. The wattage-increase to 9,700 w was again not accepted by the commission in Jan 2014. Audiences can listen 95.1 The Peak FM online with DJs & Shows info, contests (Peak Quiz Cab), events, on demand content, music playlists, Audios & Videos, Peak Mom's Club, Lost & Found Pets, News (local, national and international) & Info, Weather & Cancellations, trending and more. The Peak 95.1 can be connected via Facebook, Instagram, Twitter and YouTube. Here is the website: http://www.thepeakfm.com/
CKCB-FM Programs
| Peak Music | Talk of the Town | Non-Stop Saturday Night |
| --- | --- | --- |
| At Work with Lisa | Matt McLean | – |
Contact
Address: 186 Hurontario St
Suite 200
Collingwood, Ontario
L9Y 4T4
Contest Line: 705 445 4951
Tel: 705 446 9510
Email: info@thepeakfm.com
Deb.James@corusent.com