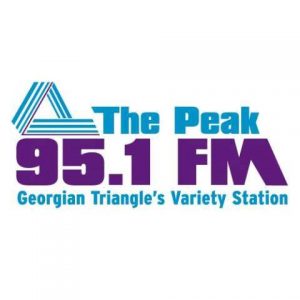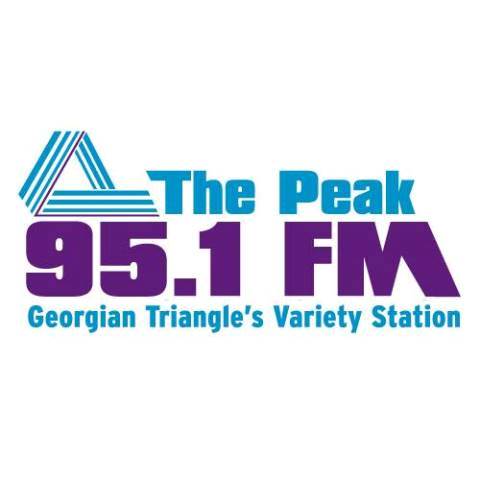 95.1 The Peak FM (CKCB-FM) established in 1965 as an AM station is adult-contemporary format radio owned by Corus Entertainment. Your Community, Your Music, Your Station is the slogan used by 95.1 The Peak. Raplh T. Snelgrove's incorporated company Barrie Broadcasting Ltd. in 1965 was successful in getting the permit to set up an AM station using a frequency of 1400 kHz and ERP of 250 watts. The channel was launched on July 15, 1965 from the studios at 84 Hurontario Street. CKCB at that time was simulcasting some local content of CKBB-AM. Local program share in May 1966 was increased to 37 hours and was further incremented to 42/week in March 1969. Day time wattage was increased to 1,000 watts in April 1975. Barrrie Broadcasting was sold out to Kawartha Broadcasting Co. Ltd. upon the sale of Four Seasons Radio Ltd. on Dec 13, 1983.
Get More Ontarian and Canadian Radios
Listen The Peak 95.1 FM Collingwood, ON Online
Welcome to 95.1 The Peak FM: Playing your favorite hits from the 80s, 90s and Today. Listen 95.1 The Peak FM (CKCB-FM) online from Collingwood, Ontario. Stream may take a moment to load.

More About 95.1 The Peak FM
ERP for the nighttime was also changed to 1,000 watts in 1984. Effective control was transferred to Power Corporation of Canada owned and operated by Mr. Desmarais thus changing the ownership of Katenac Holdings Ltd. Intercorporate reorganization of the radio and TV assets put CKCB-AM under Power Broadcasting Inc. a newly created subsidiary. The part-time satellite of CKBB-AM was shifted to FM band, changing frequency to 95.1 MHz and ERP to 250 watts with Pop, Dance and Rock format to debut. Wattage was decremented to 350 watts and transmitter site was moved to southwest of Collingwood with an increased antenna height. After making the purchase of PBI on March 24, 2000 Corus Entertainment Inc. formally took over the station on April 13, 2000. Power was increased to 4,000 watts. The request by Corus to increase the average and max wattage to 9,700 w and 25,000 w respectively remained unentertained in January 2014. You can have the station online with DJs & shows, music, contests (Lisa's Mom's Club Get Fit with CrossFit Mozomo Contest!, Peak Quiz Cab, 95.1 The Peak's "Who Needs A Dinner Out?"), events, on demand content, playlists, trending, closures and cancellations subjected to weather, local news and more fun. Fans can follow The Peak 95.1 FM on Facebook, Twitter, YouTube and Instagram. Here is the website: www.thepeakfm.com
95.1 The Peak FM Programs
| Listen Live Anytime to 95.1 The Peak | At Work with Lisa | Matt McLean |
| --- | --- | --- |
| Classic Hits Saturday Night | Talk of the Town | – |
Contact
Address: 186 Hurontario St
Suite 200
Collingwood, Ontario
L9Y 4T4
Tel: 705 445 4951
705 446 9510
Email: info@thepeakfm.com