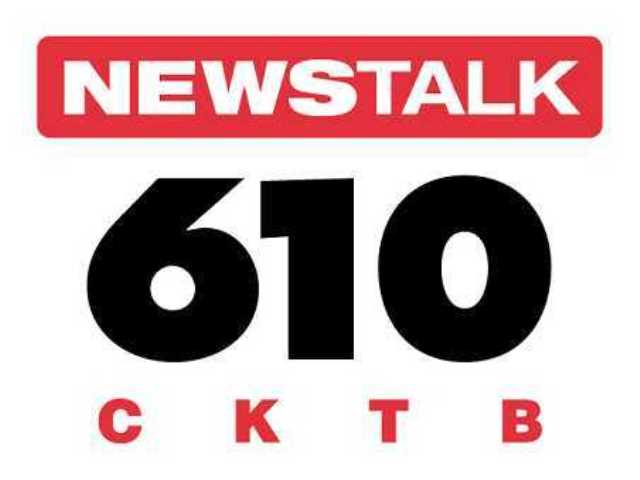 NewsTalk 610 established in 1930 is as evident by name a News and Talk radio operating in St. Catharines, ON. CKOC Hamilton was already operating in the city with a 50-watts transmitter on a frequency of 1120 AM. ERP of both CKTB and CKOC was increased to 500 w and 630 kHz was the new frequency in 1931. Frequency was switched to 1010 kHz in 1933. In 1938 the channel was operating with an ERP of 100 w and 1200 kHz was the new frequency which was again changed to 1230 kHz in March 1941 under the Havana Treaty. ERP was also increased to 1,000 w. In Oct 1944 the founding company i.e. Estate of E.T. Sandell sold out the radio to Niagara District Broadcasting Co.
More Ontarian and Canadian Radios for Listeners
Listen Newstalk 610 (CKTB-AM) St. Catharines, ON Online
Listen Newstalk 610 CKTB online form St. Catharines, Ontario. Wait as the stream loads.

More About Newstalk 610 AM
The power was changed to 620 kHz in 1950. Effective radiated power was increased to fulltime 5000 w and the channel moved to 610 kHz in April 1959. Wattage was increased to 10,000 w for the daytime in April 1964 and became a 24 hour station in 1965. Telemedia Radio Group Inc. acquired the CKTB and sisters in 2000. CKTB was purchased by Standard Radio Inc. in 2002. In Sep 2007 Astral Media Radio G.P purchased CKTB-AM, CHTZ-FM and CHRE-FM from Standard Radio Ltd. Bell Media was authorized to take the station along with other Astral owned assets in July 2013. The content offered by the Newstalk 610 is an amalgamation of Canadian and American Syndicated programs. Kevin Jack is show host and producer at Newstalk 610 CKTB. Newstalk 610 is the broadcast partner of OHL's Niagara IceDogs. Broadcasts of Toronto Maple Leafs and Hamilton Tiger-Cats Football are also carried by the Newstalk CKTB-AM. You can have the channel online on iHeartRadio with shows, contests (Niagara Knows, Dream Big with OLG Jackpot Radio!) info, latest news, talk, audios, events, features and more cool stuff. Follow the Newstalk 610 on Facebook and Twitter. Here is the website: http://www.iheartradio.ca/610cktb
Shows
| Jim Richards Showgram | Live Longer, Live Better | Dog Talk with Dave McMahon | Raceline Radio |
| --- | --- | --- | --- |
| The VIP Late Lunch with Lee Sterry | Roundtable Roundup | Employment Law | The Tom Mcconnell Show |
| Coast to Coast AM | The Tim Hudak Show | The Larry Fedoruk Show | Viewpoints |
| The Motts Weekend | Ground Zero | CKTB Today | Kim Komando |
| Toronto Maple Leafs | The TIM Denis Show | The Best of Tim Denis | – |
Contact
Address: 12 Yates Street St. Catharines ON L2R 5R2
Tel: 905 684 1174
Email: infoENG@iheartradio.ca