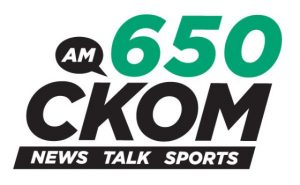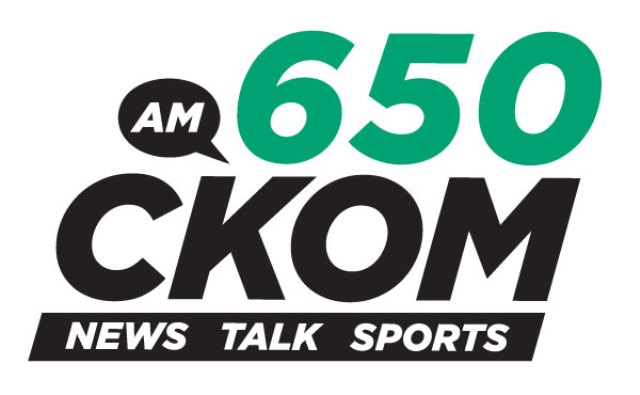 News Talk 650 CKOM aka by its call-letters CKOM-AM is the news talk radio launched on June 18, 1951 and currently owned by Rawlco Radio's. In 1948 R.A. Hosie applied for and AM station; the application was turned down. In 1949 the CBC again rejected the same application. Somewhere in 1950-51 Robert A. Hosie was finally successful to set up a station after the Yes of CBC. CKOM singed on air on June 8, 1951 at 1340 kHz with and ERP of 250 watts. In 1953 CBC granted the channel permissions to switch the frequency from 1340 to 1420 MHz and increase the frequency from 250 to 5,000 watts which was implemented in 1955 and 1954 respectively. The ERP and frequency had been changed again by 1965 to 10,000 w and 1250 kHz followed by another frequency flip in 1985 changing it from 1250 kHz to 650 kHz. Rawlco Radio Ltd. purchased the News Talk 650 CKOM in 1985. In 1998 the call-signs were taken by CHSN-FM (owned by Elmer Hildebrand) which was received by Rawlco after Local Management Agreement (LMA).
Explore More Sask and Canadian FM and AM Radios
Listen News Talk 650 CKOM Saskatoon, SK Online
Listen News Talk 650 CKOM-AM Online from Saskatoon, Saskatchewan. Wait as the stream loads.
CINT-AM branded as '650 NTR' (News and Talk Radio) was the new product resulted after these shifts. The receiver, Rawlco, acquired the station from Elmer in December 2000 and reset CINT 650 to CKOM-AM just to make CKOM-FM CJDJ-FM. The channel reemerged as News Talk 650 in September 2006. CRTC renewed the license of the station on May 28, 2010 for a six-year-term until August 31, 2016. Audiences can listen and read local, national and international news, sports stories (Saskatchewan Roughriders news), traffic (Highway Hotline) updates and reports, weather forecasts, other Provincial breaking news stories, and enjoy various Talk programs. Then there are contests, (Saskatchewan's Smartest Radio Listener, Enter to Win Regina Football Tickets, Grainfields Weekly Draw) events, (Aberdeen Trade and Craft Sale, Pumpkin Carving, Ronald McDonald House Red Tie Gala & Fashion Show, The Gormley Gathering, Huskie Hockey Alumni's Off the Leash Luncheon) podcasts, auction and more. News Talk 650 CKOM can be have on radio at 650 AM and Sasktel Max: Channel 815. You may follow the 650 AM on Facebook and Twitter. Here is the website: www.ckom.com
Programs
| Roy Green Show | Gormley – John Gormley Live | The Brent Loucks Show | Saskatoon Afternoon |
| --- | --- | --- | --- |
| Garden Talk | Midday Report | Main Street | Money Sense |
| Talk Shots | Coast to Coast | The Experts | Meeting Ground |
| The Sport Market | Green Zone | Primetime Sports | Morning News |
Contact
Address: 650 CKOM
715 Saskatchewan Crescent West
Saskatoon, Saskatchewan
S7M 5V7
Tel: 306-934-2222
306-955-6397
306-477-2566
+1 877-332-8255 (Toll Free)
Email: ckomnews@rawlco.com
iwitness@rawlco.com