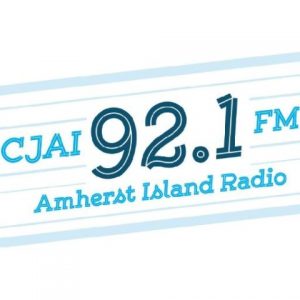 CJAI 92.1 FM branded as Amherst Island Radio is a community station in Stella, ON. It is a member of National Campus and Community Radio Association. CRTC permitted Amherst Island Radio Broadcasting Inc. to establish a low-power FM station on a frequency of 93.7 MHz with a 5-watt transmitter. It was proposed that AIR community radio would host 126 hours of content/week at least 28 of which would consist of live programming. Local artists and musicians will ultimately be the brand promoted by CJAI-FM. On April 1, 2006 CJAI 92.1 FM signed on air from its studio made in a cow barn's milking house. On Oct 15, 2007 the frequency was approved by CRTC to switch from 93.7 to 92.1 MHz as K-Rock was approved to take 93.5.
Explore More Ontarian and Canadian Radios
Listen CJAI 92.1 FM Amherst Stella, ON Online
Listen Amherst Island Radio 92.1 FM online from Stella, Ontario. Wait as stream loads.

More about CJAI 92.1 FM
CJAI-FM finally moved to 92.1 as a Class B station broadcasting local and regional news, info on environmental issues, documentaries, interviews starring local artists, writers and community personalities. Pop, Alternative Rock, Classical, Country Gospel, Folk, Jazz and bluegrass would be a part of the music hosted at station. Milkhouse studios now operating with a 250-watt transmitter in Stella comes up with the best community programs, promoting local talent, events, organizations and is the voice of community. Community members are volunteers are integral or rather only part of the channel run through donations, fundraisers and sponsors. Audiences can listen Born in a Barn radio online, can donate, and get a lot of info about the smallest and diverse radio. CJAI 92.1 is available on Facebook and Twitter. Here is the website: www.cjai.ca
Programs
| Wolf's Den | Good Morning Amherst | Rendez-Vous De La Francophone | Overtones |
| --- | --- | --- | --- |
| Kasey Ferguson Show | CDN Jaz Jims Vault | 150 Years Made in Canada | Deconstructing Dinner |
| Canadian Blues | Radio Moo Canadian | Birding | Tuned Up |
| This Amherst Island Life | Ron's Hour | Island Folk | Mixed Tape |
| Beacon Librivoix | Friday Morning show | Sherri's Pick | Bach's Sacred Gifts |
| Spiral Groove | Classical | Rick's Revival | Believe |
| For the Sake of the Song | Cheesemaker's Daughter | Udder Morning Show | Geek Positive Radio |
| Celtic | Folk & Blues | Scott Jackson Show | Broadway Soundtrack |
| Island Sunrise Show | Eastern Ontario Playlist | Down Memory Lane | ADS, FADS and Rock & Roll |
| Bluegrass | Sally's Books | Classical Librivoix | – |
Contact
Address: CJAI-FM, 5830 Front Road, Stella, ON K0H 2S0
Tel: 613 384 8282
Email: air@cjai.ca