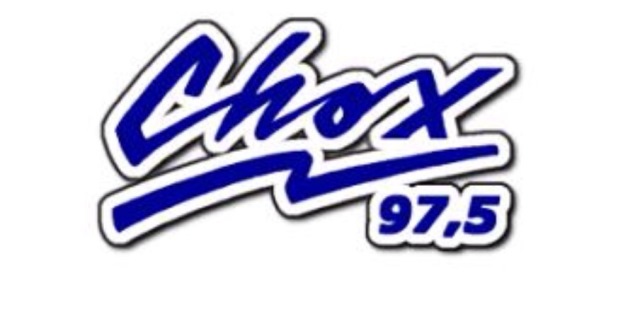 CHOX 97,5 established in 1938 is a French language AC music station owned by Groupe Radio Simard. G. Thomas Desjardins was able to receive license for an AM station (CHGB); frequency allotted was 1200 kHz and ERP was 100 w. CHGB hit the waves in Aug 1938. Frequency was changed to 1230 kHz in line with the Havana Treaty and 1230 AM was added to the CBC French Network, ERP was also increased to 250 w. By 1945, CHGB had a repeater at Murray Bay. ERP was increased to 1,000 w and new frequency was 1350 kHz in 1946; however nighttime wattage of 250 w remained unchanged. It had the membership of Canadian Association of Broadcasters in 1952. Transmitter was operating with an effective radiated power of 5,000 w in 1965. Power for daytimes was increased to 10,000 w in 1968. CHGB-FM went on air in 1966. Radio La Pocatiere Ltee. acquired the CHOX 97.5 in Dec 1970. In Aug 1983, CRTC allowed La Pocatiere Ltee was allowed to reduce 16 hours of its earlier purchased CHAL and fill St-Pamphile with the programming produced at CHGB.
Listen CHOX 97,5 FM Montreal, QC Online
Listen CHOX 97,5 FM live from Montréal, Québec. Wait as the player loads.

Complete List of Quebec and Canadian Radios for Listeners
More About CHOX 97,5
This move made the part-time repeater a fulltime one. 15 hours of programing was borrowed from the sister CJFP and therefore, CHAL and CHGB somewhere after 1984 became the fulltime satellites of the station (CJFP). Canadian Radio-television and Telecommunications Commission in 1990 permitted CIBM-FM Mont-Bleu Ltee to change the band to FM and shift to 97.5 MHz using and ERP of 25,160 w. Newly adopted calls were: CHOX-FM. CHOX-FM replaced both CHAL and CHGB on April 23, 1992 and the transmitters were eventually grounded in July 1992. The channel currently is operating 3 – all LP and FM – transmitters at Baie-Saint-Paul, Saint-Aubert and Sainte-Perpétue. In the later years a couple of satellites got approved by the commission and stated operating. CRTC renewed the license of CHOX on Aug 14, 2008 until Aug 2015. You can listen the 97.5 CHOX-FM online. Follow CHOX 97.5 on Facebook and Twitter. Here is the website: www.chox97.com
CHOX 97,5 Progrmmation
| Les Dimanches country | Fabi la Nuit | Génération 60-80 |
| --- | --- | --- |
| En toute liberté | Top 20 | Les soirées Fréquence Bleue |
| Ça roule! | Top Succès | Week-end CHOX-FM |
| Trois heures de Pur Bonheur! | Le Radio Réveil | Double Mix |
| Réseau Cogeco | Qu'est-ce qui matin? | Voie de vie |
CHOX 97.5 FM Animateurs
| Diane Bouchard | Michel Harvey et Antoine De La Durantaye | Richard Bossinotte | Madeleine Leblanc |
| --- | --- | --- | --- |
| Antoine De La Durantaye | Gabriel Hudon | Rémi Beaulieu | François Tremblay |
| Maxime Paradis | Fabi Jacques | Michel Harvey | Bob Peloquin |
Contact
Address: 601, 1re Rue Poiré
Bureau 50
La Pocatière (Québec)
G0R 1Z0
Tel: 418 856 1310
418 856 3510
Fax: 418 856 3747
Email: direction@chox97.com
chox@chox97.com