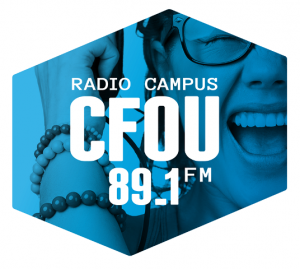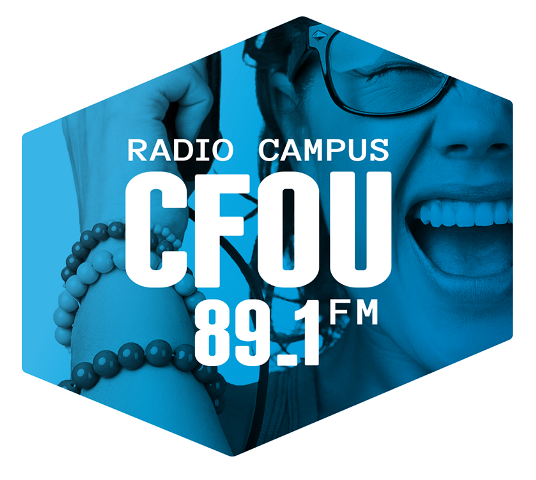 CFOU 89,1 FM is a campus radio of University of Quebec at Trois-Rivières. Owned by students of the Université du Québec à Trois-Rivières, Trois-Rivières radio campus CFOU 89,1 broadcast on the FM band since September 1997. Canadian Radio-Television and Telecommunications Commission approved the station on April 15, 1997. Its transmitter, next to the radio station on the UQTR campus, broadcasts with power of 3,000 watts (increased in 2006 from 250 w allotted by CRTC in 1997) and allows it to cover the territory of the great Trois-Rivières to the cities of Shawinigan, Louiseville, Ste-Anne-de-la-Pérade and Nicolet (the entire southern half of the Mauricie region and the northern half of the Center-du-Québec region.
Full List of Canadian and Quebec FM, AM and Online Radios
Listen CFOU 89,1 FM Trois-Rivières, QC Online
Welcome to La radio campus de Trois-Rivières, Québec. Listen CFOU 89,1 FM live from Trois-Rivières. Stream may take a moment to load.

Jean-Philippe Charbonneau (dgcfou@uqtr.ca) is the Director General of CFOU 89.1 FM. Each week, thousands of loyal listeners find CFOU 89.1 FM a particularly interesting and amusing alternative to commercial radios in the market. Being located at the heart of the campus of the University of Quebec in Trois-Rivières, CFOU 89.1 FM also enjoys the presence of potential listeners which is indeed over 10,000 university students. CFOU 89.1 FM has a principal mandate to broadcast French-language radio programs intended to serve students of UQTR. It promotes the circulation of ideas, musical diversity and the development of knowledge through the production and distribution of varied radio programs, whether cultural, informative, educational, recreational or purely entertaining. In addition to its non-profit making and social purpose, Trois-Rivières radio campus, CFOU 89.1 FM is characterized by its difference and independence.
More About La radio campus de Trois-Rivières
Offering the greatest musical diversity of the region, CFOU 89,1 FM is in itself an artistic beast considering its audacity, passion, extensiveness and variety. It brings together a number of local artists and musicians who present to the musical styles neglected by commercial radio, that is to say, all genres that are not broadcast by the major local stations: hard rock, jazz, blues, hip-hop, heavy metal, world music and electronic music. Not only does it provide its members with a unique radio experience, it also according to its mission acts as a stepping stone for emerging artists in all areas of the arts by encouraging and revealing new Québec talents unknown to the major media, regions of the Mauricie and Center-du-Québec regions. In addition, the radio CFOU 89.1 FM displays promotes all artistic disciplines including poetry, theater, literature, visual arts, performing arts, etc. CFOU 89.1 FM also has an Internet portal, which allows it to be heard around the world. It is also distributed through all cable companies in the Mauricie and Center-du-Québec regions (92.9 FM on COGECO Câble and 99.7 FM on Videotron and Décibel). Students and listeners from community can have the radio online with news, information, talk, music, Toutes les baladodiffusions (podcasts) and more. Follow the Campus Radio 89.1 on Facebook, YouTube and Twitter. Here is the website: www.cfou.ca/
CFOU 89.1 FM Programmation
| La Sécheuse | Assemblage Requis | Patriotes en action | Rock de neurones |
| --- | --- | --- | --- |
| Le Mathieu Plante Show with Mathieu Plante | Adagio | Assemblage Requis édition weekend | Rock Classique |
| VHS | C'est dans ta face! Rock francophone | Les Palmarès CFOU | Exultation chez les robots |
| CFOU le sexe! | Contes à rebours | Réanimation | Matière noire |
| Les Palmarès CFOU édition weekend | Les pas sortables | Très blues | Les Choix |
| Ecoutedonc.ca | Audiomatique | Contes à rebours | – |
Contact
Address: CFOU 89,1 FM
Université du Québec à Trois-Rivières
3351, boul. des Forges
Pavillon Nérée-Beauchemin
Trois-Rivières (Québec), G9A 5H7
Tel: 819 376 5184
819 376 5183
Fax: 819 376 5239
Email: progcfou@uqtr.ca