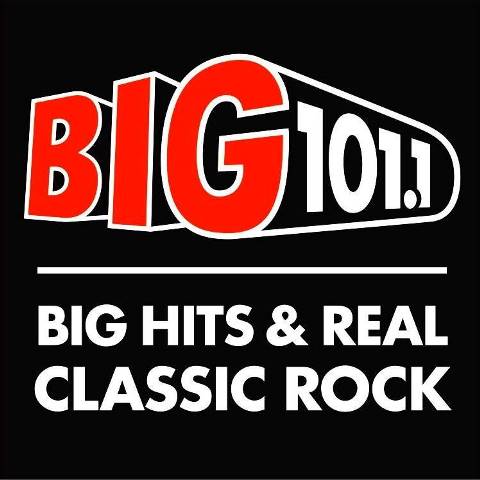 101.1 BigFM legally known as CIQB-FM and launched in 1949 as CKBB 1230 AM is a Barrie-based Classic rock station owned by Corus Entertainment. Big Hits & Real Classic Rock is the tagline used by the radio. CHAY-FM is the sister of the channel. Ralph Snelgrove, who managed CFOS was awarded a license to operate and AM station on 1230 kHz using and ERP of 250 watts at Barrie. On Aug 31, 1949 CKBB-AM was officially launched with it enjoying the membership of the Canadian Association of Broadcasters. CBC approved the channel's transfer to Barrie Broadcasting Co. Ltd. in 1952. The frequency and ERP of the independent station was changed to 950 kHz and 5,000 watts (2,500 at nights) in 1958; the wattage was further incremented to 10,000 watts in 1960. CKBB, the semi-satellite of the radio in Collingwood was launched in July 1965.
Listen 101.1 BigFM Barrie, ON Online
Listen 101.1 BigFM (CIQB-FM) online from Barrie, Ontario. Wait as the stream loads.

More About 101.1 BigFM
It became a CHUM Limited affiliate in 1969. New studios were taken in 1974. Kawartha Broadcasting Co. Ltd acquired the Four Seasons Radio Ltd. and its subsidiaries Barrie Broadcasting & Collingwood Broadcasting on Dec 13, 1983. Power Corp. of Canada which received Frontenac Broadcasting Company and Kawartha Broadcasting Company reorganized its assets, putting CKBB and others under its subsidiary PBI (Power Broadcasting Inc.) Nighttime wattage was also increased to 10,000 watts in May 1991. CKBB was flipped to FM broadcasting on a frequency of 101.1 MHz, with an ERP of 1,500 watts on Nov 12, 1994. It was rebranded as B-101. 795 watts was the reduced power in May 1995. Corus Entertainment purchased PBI April 2000. B-101 was now headquartered in 1125 Bayfield Street North. An increased up 2,600 watts was authorized in wattage on Aug 16, 2005. The format was changed to Contemporary Hits in 2008. In 2012 the new on-air lineup was introduced for 101.1 BigFM. On July 29, 2016 the channel switched to Classic Rock format as Corus was noticing the format overlap with CHAY which was also hosting Hot Adult Contemporary. Audiences can listen to the station online with shows, BIG Barrie News, blog posts, events, concerts, contests (Win Barrie Colts Tickets!, BIG Bills, BIG Mornings with Kris & Susan, Jackpot Radio), weather & cancellations, off the record stuff, playlist and more. Follow the station on Facebook, Twitter, YouTube and Instagram. Here is the website: www.101bigfm.com
101.1 BIG FM Shows
| Big Mornings with Kris and Susan | The Big Drive Home with Deb |
| --- | --- |
| At Work with Robin LaRose | Big Evenings with Chris |
Contact
Address: 1125 Bayfield Street North, P.O. Box 937
Barrie, Ontario L4M 4Y6
Tel: 705 726 1011
705 739 4101
Email: info@b101fm.com